ADEP Salty liquid meal
60 g sachet

In stock
3/4 days delivery
The strengths of this product :
Salty taste energy fluid for long-lasting efforts
Avoids sugar rejection
Non-acidic
The prolonged use of sweet products during long-lasting physical exertion (especially in hot weather conditions) can induce a feeling of saturation making the use of most energetic products impossible.
ADEP comprises all the properties energy fluids and liquid meals ... without the sweet taste! Its chicken broth flavour helps to overcome the phenomenon sugar rejection without the disruption your energy intake.
Drink a mouthful of ADEP every 5 to 10 minutes as from the start of rejection symptoms. You can maintain ADEP as energy fluid until the end of the event.
Maltodextrin, soy proteins, modified potato starch, chicken broth (salt, flavourings, flavour enhancer: glutamate, chicken meat and fats, guar gum, spices, spice extracts), anti-caking agents: tricalcium phosphate, salt, vitamin B1.
Nutritional analysis
For 100 g *
Per 60 g sachet *
Energy kcal/kJ
360 kcal / 1550 kJ
210 kcal / 900 kJ
Proteins
14 g
8,5 g
Carbohydrates
74 g
44 g
Fats
1 g
0,5 g
Vitamin B1
0,92 mg (84%)**
0,55 mg (50%)**
Sodium
2500 mg
1500 mg
* = according to flavour
** AJR = Recommended daily intake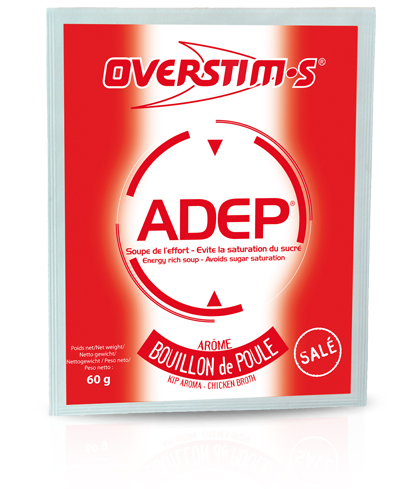 We recommend these products