Recovery drink
400 g box

In stock
3/4 days delivery
The strengths of this product :
Speeds up your energy reloading and your muscle recovery
Compensates mineral loss
Helps restore your muscle ph
The rapid assimilation carbohydrates content of OVERSTIM.s OVERSTIM.s Recovery drink will allow you to restore your energy reserves as fast as possible thus optimizing your capacities to undertake repetitive efforts.
It also contains BCAA* which will accelerate muscle repair after your activity. The sensation of having stiff muscles due to physical exercise is much reduced and you can plan on starting off again more easily.
Taking action in the core of your muscles by providing anti-fatigue weapons :
proteins for repair,
carbohydrates for your energy stores,
a high pH to fight against lactic acid,
OVERSTIM.s OVERSTIM.s Recovery drink is a good complement to more physical recovery practices, like stretching or massages.
* BCAA = Branched Chain Amino Acids
Should be prepared and consumed as soon as possible after the end of your effort.
Slowly drink 50 cl accompanied with 1 OVERSTIM.s Protein bar or for long and intensive efforts, Spordej + Regeprot.
Crystallised fructose, powdered skimmed milk, milk proteins, maltodextrins, dehydrated glucose syrup, whey proteins, vanilla flavouring, magnesium carbonate, powdered egg-white, sodium citrate, salt, thickening agent : guar, vanillin, potassium carbonate, colouring agent : beta-carotene, vitamin B1.
Nutritional analysis
For 100 g *
Energy kcal/kJ
360 kcal / 1550 kJ
Proteins
27 g
Carbohydrates
62 g
Fats
< 1 g
Vitamin B1
0,80 mg (73%)**
Sodium
750 mg
Calcium
750 mg (94%)**
Magnesium
140 mg (37%)**
Potassium
620 mg (31%)**
* = according to flavour
** AJR = Recommended daily intake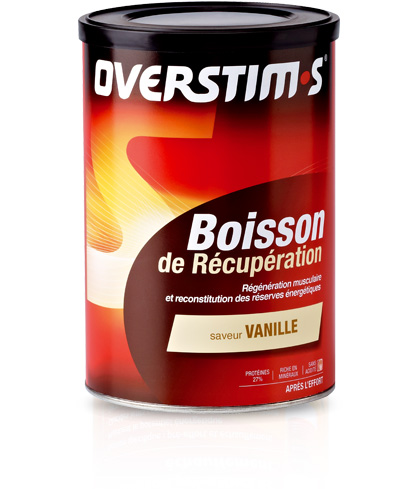 We recommend these products