Surdynamisant
60 capsule pill-box

In stock
3/4 days delivery
The strengths of this product :
High performance active components
Rich in antioxidants
Plant-based capsules
The shape builder for absolute vitality during intensive preparation !
The association of high performance active components (royal jelly, spirulina, ginseng, cola), minerals (sodium, magnesium, potassium, iron), trace elements and vitamins (B1, B6, E and C) gives OVERSTIM.s Surdynamisant its stimulating power for a general boosting action all year long.
It strengths :
Royal jelly stimulates physical activity and increases your resistance to stress, fatigue and infections.
Spirulina is a concentrated source of high availability nutrients (proteins, essential fatty acids).
Ginseng has a high stimulating power.
Cola for its energizing properties.
2 capsules per day to be taken in the morning during a period of 1 month.
Plant-based HPMC capsule, cola, ginseng, hawthorn, vitamin C, calcium carbonate, royal jelly, spirulina, sodium chloride, magnesium carbonate, iron and zinc gluconate, anti-caking agent: magnesium stearate, Vitamins E, B6, B1.
Nutritional analysis
For 2 capsules
Vitamin B1
1,4 mg (127%)**
Vitamin B6
2 mg (143%)**
Vitamin C
60 mg (75%)**
Vitamin E
10 mg (83%)**
Sodium
15,6 mg
Potassium
6,4 mg (<1%)**
Zinc
3 mg (30%)**
Iron
2,8 mg (20%)**
** AJR = Recommended daily intake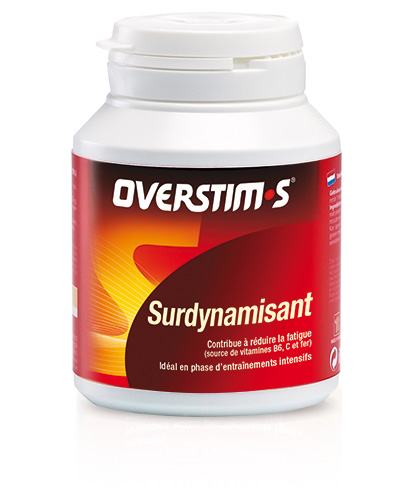 We recommend these products